Whether in terms of maintaining financial viability, adapting existing business models or designing an agile approach to an ever-changing environment, organisations are starting to ask 'what next'?
Your business plan is a step towards answering that question. But with the rate of change challenging every assumption we once relied on, can you be sure your plan is fit for purpose?
Based on our ongoing work with clients across various sectors, here are five practical tips, and three key strategic considerations, to help you develop a business plan for the new world.
1 Know your story. Know your audience.
View your business plan as your story. What are you trying to articulate? Who are you talking to? What's going to resonate most effectively with that audience?
While business plans broadly follow similar structures, tailoring them to purpose, particularly when they are formal plans for external audiences, is essential.
2 Build agility into your business plan
Modelling is key to building agility into your plan. Working through two-to-six scenarios will give your plan the framework to cope with change.
Support your modelling with clear governance structures, cementing fast, informed decision-making into your day-to-day. Together, they will help ensure your business remains re-active, whether you're ramping up or down, and that your people stay safe.
3 Collaborate...
As unpredictable market conditions see traditional tools struggle, new ways of gathering data and insight are emerging. Regular communication with key stakeholders, customers, suppliers and employees will give you a sense of the challenges people are facing and how they're responding.
Looking at geographies ahead of the UK in terms of their response cycle can provide cues as to what might work for you, as well as practical examples of best practice. Working with non-competitive peers to develop industry assumptions will help you get a firmer footing, even when the environment remains volatile.
… and communicate
When it comes to more-formal business plans for government funding or bank support, the requirements in terms of structure and insight have remained largely unaffected.
Regular conversations with key representatives will help identify what's expected, as well as what others are doing. You're not working in a vacuum, new precedents are being set every day. Knowing them could be invaluable to your business plan.
Formal business plans are likely to go through third-party due diligence. Ensure your assumptions stand up to scrutiny. Think about linking your top line to your market. Use your network to speak to sector specialists and add insight and credibility to your assumptions.
4 Stress-test the numbers
Underpinning your story with a clear picture of your financial viability is essential. Looking at both the here and now and the 'new normal', you should demonstrate an understanding of any impact on your forecasts and how you'll mitigate them.
Top line
What committed revenue can you rely on? What is the three-year view for your market, customer and sales channels?
Bottom line
What short-term profit is required to stay viable? What are the cash requirements over the next three years?
Business model and cost base
Have you adopted a zero-based budgeting approach? How will you ensure you meet both bottom-line demands and new-normal requirements, ie, new health and safety rules?
Integral to all of this is a robust financial model. Regularly review and stress test your assumptions so you can make course corrections when necessary.
5 Write it down
You may have discussed it, it may be agreed, but unless your business plan is written down, it is unlikely to get the scrutiny and understanding it needs to be a dynamic, working document.
Writing your business plan
When putting together your new business plan, consider these critical strategic considerations:
Your target market and geographies
Support revenue assumptions and set your top line.
What are the short-term and lasting impacts for your customers?
Have you changed your go-to-market approach?
How have your key sectors been affected?
Commercial strategy and competitive advantage
Explain who you're targeting, how you'll access them and why you'll win.
Is your USP and pricing structure still relevant?
How are you going to beat your competitors in a new-normal market?
Are you facing any new competitive pricing pressures?
Does your product profile remain unchanged or should you be investing in development?
Business model (operations, people and systems)
Demonstrate the capability and capacity of your business and people.
Can you deliver on your perceived competitive advantage?
Is your business model flexible enough for the new normal?
In the event of another lockdown, can you ramp up quickly, limit cost impact and keep your people safe?
You don't need to have all the answers
It's important to remember that we're in largely uncharted territory and no one can be expected to have all the answers. But with rigorous modelling and stress testing, you can develop a business plan that allows you to be brave about moving your business forward into the new normal, whatever that may be.
How can a Grant Thornton support your company right now?
Count on our experts to develop a structured business plan and increase growth in the new normal.
OVERVIEW
Pause for a pit stop
In times of extreme economic challenge, don't just power through the crisis, pause for a pit stop to retune your business for the twists and turns on the road ahead.
Read full article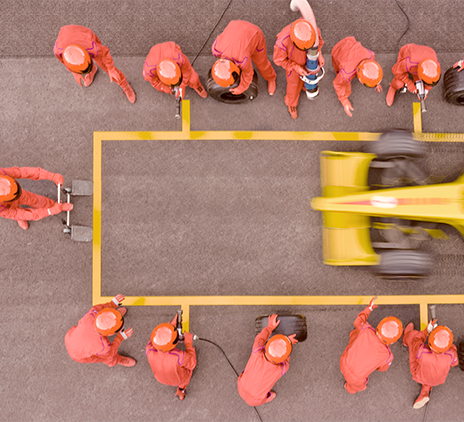 CLIENT & CUSTOMER BEHAVIOUR
Get to know your customers again
Onboard analytics help racing cars align the performance of the vehicle with the conditions of the track, similarly businesses must use insight to adjust to customer behaviour and restore growth.
Read full article