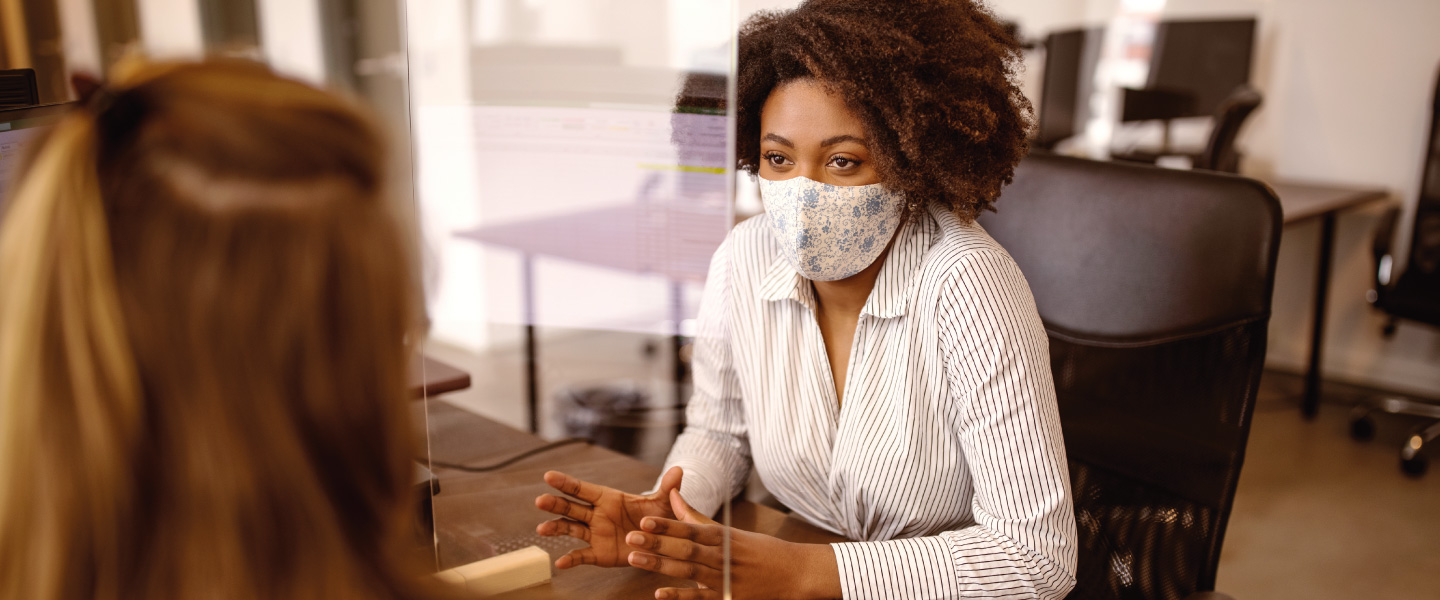 Brazil is going through a transition towards a "new normal", but we still can't foretell when the risks of contamination will be extinguished.
The World Economic Forum article of September 2020 suggests that collective immunity can occur
in just six months after vaccination rollout has reached a sufficient portion of the population. Regardless of positive expectations about vaccination, we know that the next normal business context will not be the same as the old one. Structural changes have taken place in 2020, be it in the way of working, the use of technology or even in professional relationships.
As identified by the CRE group of researchers from FDC Brazil, on Leapfrogging practices in
Brazilian startups with a focus on social impact (2019), society and companies can apply new
technologies and collaborative ways to make great leaps and overcome problems caused by Covid-19.
Gradual changes and traditional businesses (business-as-usual) are not enough to solve the serious social and environmental problems faced by the world, especially in developing countries such as Brazil. In the search for disruptive innovation that has a positive impact, it is important to understand and learn more about Leapfrogging¹ practices in Brazil and Latin America.
Existing companies have the need and the opportunity to enter the digital market by digitalizing their core businesses. They create new and innovative businesses with the digital formats of their existing products and services. According to McKinsey Digital Business Building Survey, 30% of global CEOs made building new businesses a priority in 2019. However, in 2020, this percentage rose to 52%. An impressive new number of CEOs prioritize new strategic rationales to create a new digital business, including:

• 65% justify the search for new sources of revenue;
• 44% are seeking to meet new customer expectations;
• 18% seek protection/barriers against new entrants.

To do so, the creation of a new business can follow three different paths, according to the
McKinsey research:
1. Change the way you serve:
Maintain the product and the customers but significantly change the way of transacting/servicing.
2.Expand portfolio franchise:
Maintain the target audience and add new service/product offerings enhanced by the use of
digital technologies.
3.Expanding business boundaries:
Offer a new range of products, services, and business models to a new segment of customers.
Offer completely new and different products from your core business, promoting brand leverage
and market recognition.

In the following figure, McKinsey Analysis illustrates the necessary conditions for each strategy: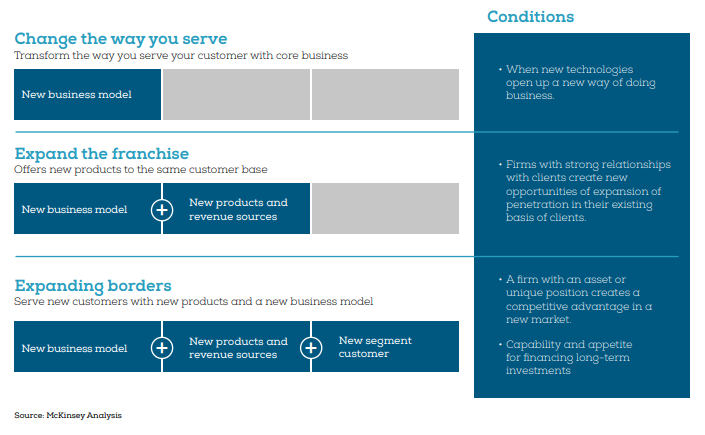 One of the conclusions of the McKinsey Digital Business Building Survey is the low rate of new business created in large companies. Only 24% became viable and gained scale. Among the factors that deserve greater emphasis is the misalignment of expectations. New businesses with an "innovative" typology end up being measured by the same metrics as the original or traditional business, under pressure for quick and profitable returns.


Strategic Partnership
Since 2019, Grant Thornton has been a supporter of the FDC Strategy Reference Center - CRE. Among its purposes is the dissemination of knowledge and partnership in relevant content that collaborate for the sustainable development of organizations and society.
But, how to have innovation with extremely damaged cash? How to recover when physical contact is still a limiting factor? How to reestablish the flow of raw materials and inputs in production chains that have been interrupted? What will be the new type of work within organizations (face-to-face, remote or hybrid)? What lessons do leaders and managers take for future scenarios? And, finally, how to assure data security with the proven fragility of home connection networks?
Based on these questions, we selected three axes of reference to support reflections and priorities,
as illustrated below: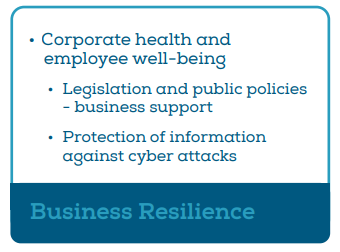 These are some of the concerns that we still don't have the right answers for. Therefore, it is necessary to prioritize strategic and tactical actions according to the reality of each organization.